Get In Touch!
Contact us today to see how we can help you maximize your benefit and program investments for a better future in uncertain times.
Request a Demo
Our Heart Is In Public Health
We help public health programs maximize limited resources and improve outcomes by connecting people to the services and medications they need... for a better life.
Press Releases
Sylester Flowers Honored by the California State Senate and California Governor Arnold Schwarzenegger
Recognition Given to Bay Area Business and Community Leader who Demonstrates Commitment to Public Health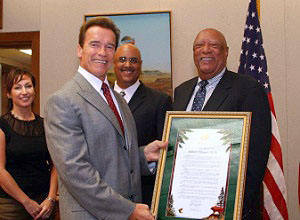 Oakland, Calif., September 6, 2007 – Sylester Flowers, founder of Ramsell Holding Corporation, the parent company to healthcare-related businesses including Public Health Service Bureau, The Apothecary Pharmacy and Flowers Heritage Foundation and a long-standing public health advocate in the San Francisco Bay Area, was honored in a Resolution Presentation by the California State Senate. Mr. Flowers was recommended for the award by Senate President pro Tem Don Perata (D-Oakland). For this honor, Flowers participated in a Resolution Presentation session on the Senate Floor. Following the Senate Resolution, Mr. Flowers met with California Governor Arnold Schwarzenegger.
"Sylester is a man who came from very modest beginnings, living in an era of inequality as he faced the challenge of getting a business off the ground. On his long road to success, it would be easy to forget his roots but he has always stayed grounded," said Senator Perata. "His dedication to professionally and personally serve those who are less fortunate is an inspiration to the people of the Bay Area, to the State and all Americans."
Since coming to the Bay Area in 1962, Flowers has been deeply committed to addressing public health issues for the underserved. His passion for serving often marginalized communities can be seen in his professional and personal life. In 1964, Flowers opened the first of what became a chain of pharmacies in working-class neighborhoods in Oakland, California. Once the business became established, he founded Ramsell Corporation as a holding company for his successful pharmacies and expanded the business into managing pharmaceutical services.
Beyond his business activities, Flowers has also served as a community leader, educator and scientist. He was Pharmacy Director for the San Francisco County Mental Health Department's methadone treatment program from 1971 to1982. Flowers also held teaching positions as an adjunct professor of pharmacy at the University of the Pacific in Stockton, California and as an assistant clinical professor of pharmacy at the University of California School of Pharmacy in San Francisco, California.
"It has been a pleasure working with Sylester Flowers over the past eight years," said Kathleen Russell, Section Chief of the California AIDS Drug Assistance Program. "He and Ramsell Corporation are an important partner in the success of California's ADAP."
"I am deeply honored to receive this recognition from the California State Senate," said Sylester Flowers, Chairman and Chief Executive Officer, Ramsell Holding Corporation. "My philosophy of giving back to the community is something that was instilled in me by my mother who made me promise to always give back to the people who give you your livelihood. Her encouragement and advice have stayed with me, playing an important role in my businesses and belief in corporate social responsibility."
About Ramsell Holding Corporation
Ramsell Holding Corporation is the parent company to three healthcare related businesses, as well as an information technology company and a real estate management and investment business. The Ramsell family of companies is committed to serving the underserved and improving the lives of the most fragile among us. Every business in the Ramsell family donates a percentage of profits to the Flowers Heritage Foundation to address the needs of overlooked populations. Ramsell Holding Corporation is based in Oakland, California. For more information, please visit www.ramsellcorp.com.
About Flowers Heritage Foundation
The Flowers Heritage Foundation is a non profit (501c3) organization dedicated to providing solutions for public health issues affecting the medically indigent through our expertise in public health care, education/awareness programs, technology, business management, and fundraising. Current programs include funding medications for ADAP waitlisted patients, and AIDS awareness programs for High School students. Flowers Heritage Foundation is based in Oakland, California. For more information, please visit www.flowersheritagefoundation.org.