Get In Touch!
Contact us today to see how we can help you maximize your benefit and program investments for a better future in uncertain times.
Request a Demo
Our Heart Is In Public Health
We help public health programs maximize limited resources and improve outcomes by connecting people to the services and medications they need... for a better life.
Independent Pharmacy
For nearly 50 years, Ramsell has offered independently owned pharmacy services to the local community. Ramsell understands the pharmacy perspective. Ramsell is also committed to every patient. At The Apothecary, we have experienced and caring pharmacists who are trained to answer health-related questions for patients. Apothecary pharmacists are ready to help with any questions about the prescriptions patients are taking, and can guide customers through the maze of information about staying healthy.
Staff pharmacists are knowledgeable resources who are committed to making the community a better place to live. The Apothecary at Eastmont Town Center is committed to meeting the diverse needs of our clients.
The Apothecary offers the following services: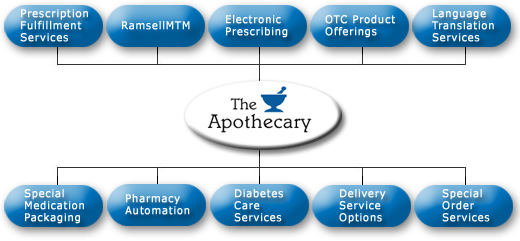 Ramsell understands the unique needs of independent pharmacies and the patients they serve.
Visit the The Apothecary at Eastmont Center website for more information.